<!=========Slider View Template 2.5.1=========>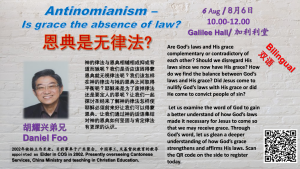 CE SEMINAR – ANTINOMIANISM
Date: 06.08.2022 (Sat),
Time: 10am – 12pm
Venue: Galilee Hall, 4th storey
Registration deadline: 31.07.2022 (Sun),
Speaker: Bro Daniel Foo
This seminar is held in Bilingual
Are God's laws and His grace complementary or contradictory of each 
other? Should we disregard His laws since we now have His grace? How do we find the balance between God's laws and His grace? Did Jesus come to nullify God's laws with His grace or did He come to convict people of sin?  
Let us examine the Word of God to gain a better understanding of how God's laws made it necessary for Jesus to come so that we may receive grace. Through God's Word, let us glean a deeper understanding of how God's grace strengthens and affirms His laws.
Click HERE to register today.