<!=========Slider View Template 2.5.1=========>
Digital Awareness Seminar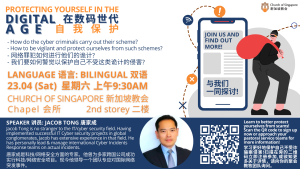 PROTECTING YOURSELF IN THE DIGITAL AGE
Date: 23.04.2022 (Sat)
Time: 9:30am 
Venue: Church of Singapore, Chapel, 2nd Storey
Speaker: Bro Jacob Tong
Registration deadline: 20.04.2022

In today's digital world, one cannot be too cautious. Cybercriminals are constantly on the prowl, innovating new scams to cheat individuals of their identity and monies.

Many individuals are falling prey to frauds that involve various forms of social engineering techniques where the information required is garnered from a person rather than breaking into a system. How do the Cyber criminals carry out their scheme? How should we be more vigilant and protect ourselves from such schemes?

Come and find out at this Digital Awareness Seminar! Invite your friends and family members  to understand how online scams are becoming more sophisticated and a threat to us. Get behind-the-scenes into the Cyber criminal world and discover how to better protect yourself from such schemes and how not to be a victim of cyber scams. Being digitally aware is our best defence!

Click HERE to register to attend today. For more information, please approach your pastoral service teams.