<!=========Slider View Template 2.5.1=========>
Digital Seminar – Metaverse
July 3 @ 9:30 am
-
12:30 pm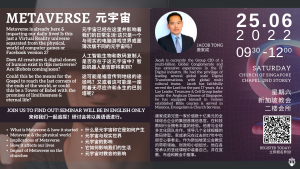 As the world becomes more digitised, it is important for us to understand and be aware of the transformation that is happening. As we become more tech savvy and gain more knowledge and connectivity via the digital world, we also need to keep ourselves safe.

DIGITAL SEMINAR – METAVERSE (Seminar is in English only)
Date: 25.06.2022 (Sat)
Time: 9:30am
Venue: Chapel, 2nd storey 

As our nation moves faster into IT and digitalization, more people are being exposed to Metaverse, AI and the virtual world.  Metaverse is now impacting our daily lives.  This is quite frightening and the Church needs to help educate people about the virtual world. Join us in the upcoming digital seminar on Metaverse as we explore the impact Metaverse is having on the world and us as Christians.

Come and learn what Metaverse is, and how it had started. Discover how Metaverse intersects with the physical world and its implications, of how it affects our lives and how it is impacting the churches. Click HERE to register now.