<!=========Slider View Template 2.5.1=========>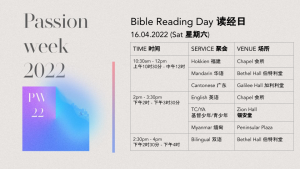 Bible Reading Day
16.04.2022 (Sat)
10:30am-12pm: Hokkien/ Mandarin/ Cantonese
2pm-3:30pm: English/ Myanmar/ YA 
2:30pm-4pm: Bilingual 

Join us as we read Scripture aloud together, cross referencing both the Old and New Testament. There is great power in the Word to illuminate our minds and renew our hearts. Together, may we reflect upon the Passion of Jesus and celebrate what He has done for us.

For more details, please approach your pastoral service teams.